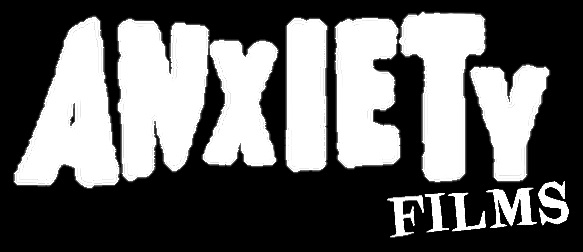 HISTORY
About ten years ago, the concept for Anxiety Films came out of an idea that Eric Eichelberger, the president of the company, had for a movie. He wanted to take a cinematic technique that Alfred Hitchcock used in many of his films, including "Rear Mirror" and "Frenzy" and apply it to a 1960's style sexploitation flick. Thus, the movie "Women in Anxiety" was born. What he realized then was that the same element he liked about different kinds of movies, such as Horror, Sci-Fi, Cult, Experimental, Arthouse, Eurotrash, Exploitation, Midnight movies, Sexploitation, Sleaze, and B-Movies was the underlying anxiousness in the films. Since then, Anxiety Films has grown into a fully functioning production company, with one narrative feature film sold, one narrative feature film in post-production, one documentary film in post-production, and one narrative feature film in pre-production. Anxiety Films also hosts the West coast's largest consecutive 24 hour Horror/Exploitation/B-movie film festival.
GOALS
The goal of Anxiety Films is to produce and sell high quality horror films and documentaries with political satire and dark humor on a low budget. Anxiety Films values quality over quantity, story and substance over high budget special effects, film over digital, and aesthetic over marketability. Anxiety Films is inspired by directors such as David Cronenberg, Clive Barker, David Lynch, Werner Herzog, Jean Rollin, H.G. Lewis, Andrezj Zulawski, Rainer Werner Fassbinder, and many others who translate their personal vision uncompromisingly to film and continue to make very personal and visionary work.
THE COMPANY
Anxiety Films, LLC is a Los Angeles based independent film company that writes, directs, produces, and edits low budget horror films and documentaries for domestic and overseas theatrical and Blu-Ray, DVD distribution, and Online markets. Anxiety Films is open to new investors. To contact us about investing, see our Contact Us page. Our films are shot on location with high quality HD and film equipment. Anxiety Films owns all of our own production equipment to keep costs low. Anxiety Films also puts all money allocated for film budgets into the picture to keep production value high.
Anxiety Films shoots with small crews who are extremely tight and have been working together for several years. We are also looking for interns and students who are interested in crewing on our films. To inquire about interning or crewing on our films, see our Contact page.
Anxiety Films runs a highly successful and acclaimed film festival, Shock-A-Go-Go, a 24-hour Horror and B-Movie Extravaganzathat has had such guests as David F. Friedman, Roger Corman, Joel M. Reed, Jack Hill, Stuart Gordon, Richard Elfman, Mark Pirro, Ted V. Mikels, and Mink Stole. We have also screened such films as The Hills Have Eyes, The Beyond, Cannibal Ferox, Meet the Feebles, Faster Pussycat, Kill Kill, Blood Feast 2, Doll Squad, Forbidden Zone, Re-Animator, Dagon, Rock and Roll High School, I Spit on Your Grave, Spider Baby, and Bloodsucking Freaks, and many more.
Anxiety Films advocates D.I.Y. (Do-It-Yourself) ethics and has two primary goals: (1) To fuck up the Hollywood system and promote revolutionary ideas in film and video production, and (2) To make movies that challenge the current cultural paradigm and become hailed as cult classics. Welcome to Anxiety Films!